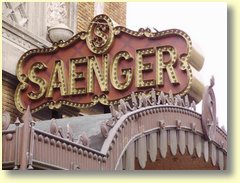 "When Mobile's Saenger Theatre opened on January 19, 1927, it was the sixty-first Saenger theatre of a chain founded by J.H. and A.D. Saenger of New Orleans. There were Saenger Theatres located throughout the South as well as in Cuba and Puerto Rico. Hailed as, "Alabama's Greatest Showplace" and, "the most beautiful playhouse in all of Dixie," the Mobile Saenger Theatre took a year to construct at a cost of about 500,000 dollars. Designed by renowned architect, Emile Weil …"
"The Saenger Theatre of Mobile now functions as a performing arts center and is the official home of the Mobile Symphony Orchestra. The Saenger features an annual Summer Movie Series and presents numerous concerts, lectures and special events. The Saenger Theatre is a historic landmark, dear to the hearts of Mobilians for its architectural grandeur and ties to our cultural history as well as for the extraordinary caliber of entertainment it offers our community today."
Read the entire history of the Saenger Theatre as well as its scheduled events and box office information by clicking this web-link, http://www.mobilesaenger.com/info.php.
Contact Information
Box Office Entrance
6 South Joachim Street
Mobile, Alabama 36602
Administrative Offices: 251-208-5600
Rental Info: 251-208-5608
FAX: 251-208-5607
Box Office: 251-208-5600
Email: saengertheatre@cityofmobile.org
Administrative Office Entrance
250 Conti Street
Mobile, Alabama 36602
Theatre Staff & Management
Nichole T. Loper, Operations Manager
Patty Thompson, House Manager
Mitch Teeple, Production Manager
Chris Penton, Settlement Agent
Kelly Somers, Box Office Clerk
Lorenzo Franklin, Custodian
VOLUNTEERING: The event support committee consists of community volunteers from all walks of life whose dedicated service is invaluable to the Theatre's operation.
If you would like to join our event support committee, please call Patty Thompson at 251-208-5608. If you would like to become a CLA member, please call Jani Young at 251-208-5652.
(Photograph by Al Cheney, 7th February 2010, FHA Approved Residential Appraiser with Cheney Appraisal Services, 251-533-2424.)