Alabama Port 36523, Axis 36505, Bayou La Batre 36509, Belle Fountaine 36582, Bucks 36505, Calvert 36513, Celeste 36522, Chickasaw 36611, Chunchula 36521, Citronelle 36522, Coden 36523, Creola 36525, Dauphin Island 36528, Dawes 36619, Earlville 36522, Eight Mile 36613, Fairview 36587, Georgetown 36521, Grand Bay 36541, Gulfcrest 36521, Hollingers Island 36605, 36582, Indian Hills 36613, Irvington 36544, Kushla 36613, LeMoyne 36505, Lott 36575, Magazine 36610, Mauvilla 36613, Millertown 36613, Mobile 36608 (and all other zip codes), Moffett 36587, Mon Louis 36523, Mount Vernon 36560, Oak Grove 36613, Prichard 36610, Saint Elmo 36544, Salco 36505, Saraland 36571, Satsuma 36572, Semmes 36575, Theodore 36582, Tillman's Corner 36619, Toulminville 36617, Turnerville 36521, Whistler 36612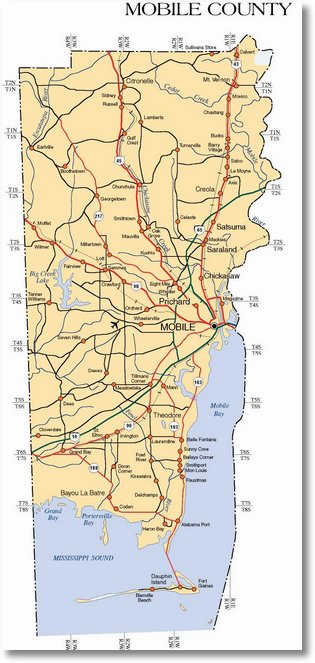 Al Cheney with Cheney Appraisal Services, (251) 533-2424, can handle all of your Mobile County, Alabama real estate property appraiser needs. Cheney Appraisal Services supplies only the highest quality Mobile County, Alabama real estate appraisals. The Mobile County appraisal district is an area where we can satisfy all of your home appraisal needs. Our real estate property appraiser is "certified residential" and "fully licensed" in Alabama. Al Cheney is a real estate appraiser fully qualified to handle your home appraisal, appraisal when settling an estate, tax appraisal and any other appraisal need, such as, vacant land and legal reasons. Al Cheney is also a "FHA Approved" Appraiser.
Certified & FHA Home Appraisals start at $295 per report!
Albert Marshall Cheney, Cheney Appraisal Services, P. O. Box 8888, Mobile, Alabama 36689-0888, accepts residential real estate appraisal assignments within The Mobile Bay Metro Area and the Mobile County communities and towns listed above. Click on the available hyper-links for more information on these Mobile County, Alabama communities and towns. Also, here are most of the appraisal report services with fees provided by Al Cheney with Cheney Appraisal Services:
Condominium Appraisal Report,

$295 & $325

Single Family Residential Appraisal Report, detailed information,

$295 & $325

Limited 2055 "Interior" Appraisal Report,

$275 & $300

Limited 2055 "Exterior" Appraisal Report,

$225 & $250

Complex Or Waterfront Residential Appraisal Report,

$400-$500+

"Certified" FHA Single Family (Home) Residential Appraisals for Baldwin County, Alabama and Mobile County, Alabama,

$295 & $325

Desk Review Report,

$100

Relocation (RELO) Appraisal Report,

$450

Acreage Or Lot (Land) Appraisal Report,

$200 & $250

Recertification of "Value Opinion",

$75

Field Review "Exterior" Appraisal Reports,

$200 & $250

Construction Draw Or Final Inspections,

$75 & $100

Duplex, Triplex Or Other Assignments More Distant,

Quote
The above list covers many appraisal report services provided by Cheney Appraisal Services within Mobile County and The Mobile Bay Metro Area of southwest Alabama.
If you do not see your appraisal report requirement listed above, contact Albert Cheney, (251) 533-2424 or email, Albert@CheneyAppraisalServices.com, with your home or residential appraisal orders and or questions. The business facsimile is (251) 252-7737.
Try these websites for more information: http://www.CertifiedAppraiserNames.com/, http://www.CheneyAppraisalServices.com/ and http://www.MobileAlabamaFHARealEstateAppraisers.com/.