Barnwell 36532, Bay Minette 36507, Belforest 36526, Bon Secour 36511, Crossroads 36507, Daphne 36526, Elberta 36530, Elsanor 36567, Fairhope 36532, Foley 36535, Fort Morgan 36542, Gulf Shores 36542, Josephine 36530, Lillian 36549, Little River 36550, Loxley 36551, Malbis 36526, Magnolia Springs 36555, Marlow 36580, Miflin 36530, Montrose 36559, Mullet Point 36532, Ono Island 36561, Orange Beach 36561, Oyster Bay 36542, Perdido Beach 36561, Perdido 36562, Pinegrove 36507, Point Clear 36564, Rabun (Rabon) 36507, Robertsdale 36567, Seminole 36574, Silverhill 36576, Spanish Cove 36549, Spanish Fort 36527, Stapleton 36578, Stockton 36579, Styx River 36578, Summerdale 36580, Tensaw 36507, Whitehouse Forks 36507, Wolf Bay 36530, 36535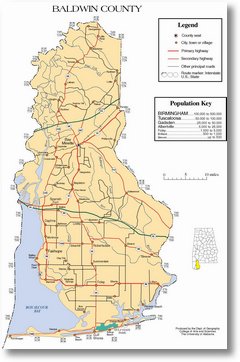 BALDWIN COUNTY, ALABAMA
Al Cheney with Cheney Appraisal Services, (251) 533-2424, can handle all of your Baldwin County, Alabama real estate property appraiser needs. Cheney Appraisal Services supplies only the highest quality Baldwin County, Alabama real estate appraisals. The Baldwin County appraisal district is an area where we can satisfy all of your home appraisal needs. Our real estate property appraiser is "certified residential" and "fully licensed" in Alabama. Al Cheney is a real estate appraiser fully qualified to handle your home appraisal, appraisal when settling an estate, tax appraisal and any other appraisal need, such as, vacant land and legal reasons. Al Cheney is also a "FHA Approved" Appraiser.
Certified & FHA Home Appraisals start at $295 per report!
Albert Marshall Cheney, Cheney Appraisal Services, P. O. Box 7907, Spanish Fort, Alabama 36577-7907, accepts residential real estate appraisal assignments within The Mobile Bay Metro Area and the Baldwin County communities and towns listed above. Click on the available hyper-links for more information on these Baldwin County, Alabama communities and towns. Also, here are most of the appraisal report services with fees provided by Al Cheney with Cheney Appraisal Services:
Condominium Appraisal Report $295 & $325

Single Family Residential Appraisal Report, detailed information $295 & $325

Limited 2055 "Interior" Appraisal Report $275 & $300

Limited 2055 "Exterior" Appraisal Report $225 & $250

Complex Or Waterfront Residential Appraisal Report $400-$500+

"Certified" FHA Single Family (Home) Residential Appraisals for Baldwin County, Alabama and Mobile County, Alabama $295 & $325

Desk Review Report $100

Relocation (RELO) Appraisal Report $450

Acreage Or Lot (Land) Appraisal Report $200 & $250

Recertification of "Value Opinion" $75

Field Review "Exterior" Appraisal Reports $200 & $250

Construction Draw Or Final Inspections $75 & $100


Duplex, Triplex Or Other Assignments More Distant Quote

The above list covers many appraisal report services provided by Cheney Appraisal Services within Baldwin County and The Mobile Bay Metro Area of southwest Alabama.
If you do not see your appraisal report requirement listed above, contact Albert Cheney, (251) 533-2424 or email,Albert@CheneyAppraisalServices.com, with your home or residential appraisal orders and or questions. The business facsimile is (251) 252-7737.