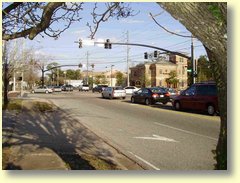 The neighborhood name Spring Hill was originally an early 19th century Spanish land grant settlement. Spring Hill is one of Mobile, Alabama's oldest neighborhoods. Over 150 years ago, Spring Hill gained its prominence when Mobilians built summer homes to seek refuge from the semi-tropical heat of the city and the Yellow Fever epidemic carried by mosquitoes.
Spring Hill has a sense of community with good neighbors and wonderful neighborhoods with antebellum and majestic oaks covering many of the streets, such as, The Cedars, Dilston Lane, Tuthill Lane and Wim

bledon Drive. Spring Hill is also an active area with many individuals and groups of friends cycling, jogging, walking and expressing their patronage for the local businesses along McGregor Avenue and Old Shell Road as well as other adjoining streets.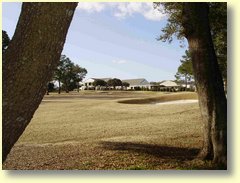 The Country Club of Mobile is located in Spring Hill and provides its members with fine Southern dining, swimming pool, tennis courts, 18-hole golf course and a short 9-hole course. In nearby Langan Municipal Park, Mobilians and its visitors can enjoy the various lake views, walking paths and the wonderful lakefront Mobile Museum of Arts which maintains a fine permanent collection as well as hosting prestigious temporary exhibitions throughout each year. And, just minutes west from the museum, you can enjoy the Azalea City Golf Course ($16 to $39 depending on time of day, cart or walking), the Botanical Gardens and the Mobile Tennis Center, one of the largest of its kind in the United States. Since 1930, Spring Hill College, the oldest school of higher learning in Alabama, has been serving the Mobile Bay Metro Area with a beautiful 18-hole golf course (available without membership) from $32 to $39 each, depending on mornings and afternoons, includes a cart, or Mondays and Wednesdays which also includes a lunch.
Spring Hill's retail area includes an active branch of the public library, dentists, doctors, grocery stores, pharmacies, restaurants, women's & children's clothing stores, and other professional services. Mary B. Austin, one of Mobile's oldest public elementary schools, is located along Provident Lane, north side of Old Shell Road. St. Paul's Episcopal and St. Ignatius schools located nearby provide parochial private education.
Springhill Memorial Hospital, physician's offices and a fitness center are located along the south side of Dauphin Street, near Interstate U. S. Highway 65, and across from many restaurant facilities and retail shops, such as, Alabama Outdoors, Ann Taylor Loft, Atlanta Bread Company, Ballins, Claude Moore, Coldwater Creek, J. Jill, Jimmy Johns, Jos. A. Bank, Legacy Village at Spring Hill, Metzger's, Talbots, The Wine Loft, Tropical Smoothie Café, True Restaurant and Zoe's Kitchen.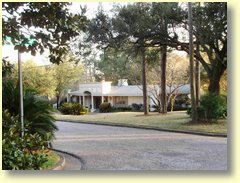 In a tough economic climate, the property values within Spring Hill have done better than most other areas in the city of Mobile due to its desirability. With this stated, individuals and families can find many choices for housing, from a small condominium to a spacious home on a large lot. Currently, there are approximately 231 active listings from $44,850 to $3,300,000 asking prices. Recent housing sa

les, about 70 sold records, for the past six months ranges from $37,500 for a one bedroom, one bath condo to $950,000 for an over 6,000 square foot home with 4 bedrooms and four bathrooms near the Country Club of Mobile. Therefore, Spring Hill has housing price offerings to fit any budget!
For more information about Spring Hill or any other neighborhood in the city of Mobile, contact Albert Marshall Cheney, Certified FHA Approved Real Estate Appraiser, by calling (251) 533-2424 or visit the web site, http://CheneyAppraisalServices.com/. Al Cheney covers all of Baldwin County and Mobile County in The Mobile Bay Metro Area of Alabama.
Tags: (251) 533-2424 Mobile County Alabama, Alabama FHA Appraisers, Alabama Real Estate, Albert Cheney, Albert Cheney Real Estate Appraiser, Albert Marshall Cheney, APPRAISER, Appraisers, Azalea City golf course, Business Alabama, Certified Appraisers, Dauphin Street, Dilston Lane, Economic news, FHA Appraisal rules, FHA APPRAISER, FHA Approved Appraisers, FHA Approved condos, FHA Approved homes, FHA Loans, Fox News, Historic Mobile Alabama, Home Listings, Homes For Sale, HUD FHA Approved Appraisers, HUD Settlement Charges, Legacy Village at Spring Hill, McGregor Avenue, Mobile Alabama, Mobile Alabama Homes, Mobile Bay Monthly, New Construction, New Homes, Old Shell Road, Provident Lane, Real Estate Agents, REAL ESTATE APPRAISER, Real Estate Appraisers, Real Estate Articles, Real Estate Brokers, Real Estate Classifieds, Real Estate Fees, Real Estate Industry, Real Estate Listings, Realty Leaders, Realty Leaders Corporation, Selling Residential Property, Selling Your Home, Settling Estates With Real Property, Southern Living, Spring Hill College, Sprring Hill golf course, St. Ignatius, St. Paul's, Stein Avenue, The Cedars, University of South Alabama, Wimbledon Drive